Roll over image to zoom in
Description
The essence of the finest Cuban premium cigar is contained within each Eon Disposable Pod Device Cubano. The flavor is so similar to the actual thing, if you close your eyes, you won't be able to tell a difference! This device is manufactured with a 240mAh battery, built to last the entire duration of the smoking experience with no compromises. Each of these products contains a 1.3mL tank for nicotine salts accordingly, featuring a delicious general taste and aftertaste with every single puff. In order to quench the strongest nicotine cravings, each pod is rated at 7% nicotine in strength. People looking to get their feet wet in the world of vaping should strictly consider this product, for it is disposable and does not endow the smoker with any permanent commitments. This is the perfect alternative to smoking a premium cigar, featuring the same great taste, but with no health-related drawbacks!
Payment & Security
Your payment information is processed securely. We do not store credit card details nor have access to your credit card information.
Customer Reviews
Write a Review
Ask a Question
Not good
Not good. Punctual on delivery but you are chronically out of stock. Multiple times I have ordered the same item. Sometimes I receive my order but twice now you are suddenly out of said product. With no accurate inventory I apparently am allowed to order and pay for items that are out of stock. Since it is a popular item why don't you order more to have in stock. That's usually a good business practice.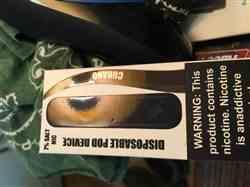 ---